Hello, Voluntarist fans!
I am happy to announce that the second stretch goal is officially UNLOCKED!
WOOOOOO!
Everyone at the print comic book tier and higher will now be receiving a new game card prototype in addition to the bonus character sheet from passing stretch goal No. 1 along with the bonus sticker for reaching goal.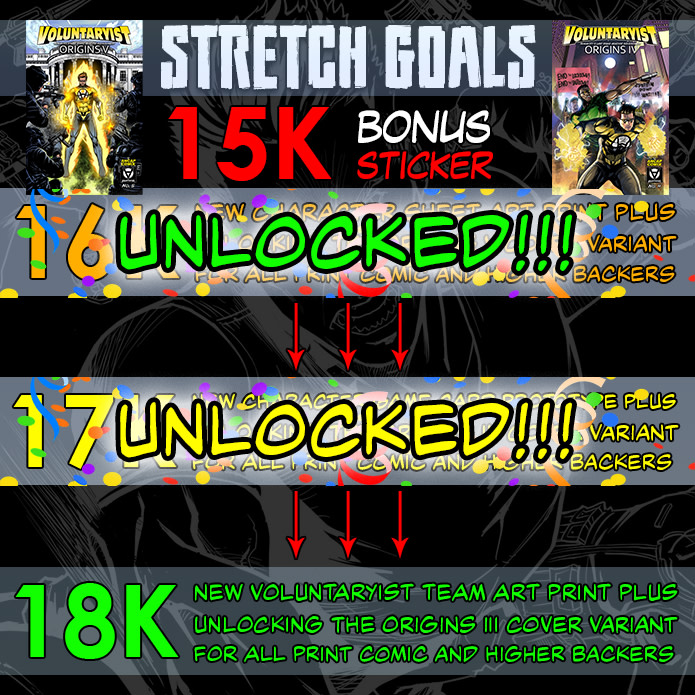 So again, if you are currently supporting at a tier lower than the print comic, you're definitely going to want to upgrade now to reap the bonus perks as you'll be getting not one, not two, BUT THREE bonus items!
And, on top of that, we're going to be making variant covers for Origins IV and V for a mainstream appeal.
As we still have about a week to go, there's plenty of time to unlock stretch goal number 3 to add another bonus item to your perk packages.
Getting there is as simple as everyone sharing the comic campaign here:

to their social media and letting others know what we're doing. The more awareness, the more of a chance we have to gain support and reach a record-breaking accomplishment that will set the Voluntaryist series up as a serious competitor in the alternative comic book space.
We're also doing our part to get the word out and have been promoting Voluntaryist on a number of shows and will be doing even more this upcoming week.
If you want to listen to some of our recent interviews, you can here:
On Hank Strange: https://utreon.com/v/-8D-ghp-Ru6
On Critical Blast: https://youtu.be/uhO_KDnqCD0
On Immortal Rising Comics: https://youtu.be/ar8w1Iq4-NA
On Freshly Based: https://youtu.be/eU2EcR2MOLU
Thank you again, everyone, for your generous support.
This 10th anniversary is groundbreaking for the series, and I genuinely believe this trade paperback compendium is going to put Voluntaryist on the map, especially in the ComicsGate community.
On that note, we will soon be announcing an official time for our campaign end livestream next week, but it will likely be Thursday, June 30th, around 9 p.m. Eastern on The Pholosopher YouTube channel.
So be sure to join in with us then as we celebrate with you and close in on that 3rd stretch goal!
Looking forward in liberty,
-J ( :
Campaign link: