---
---
---
---
---
---
---
---
---
---
---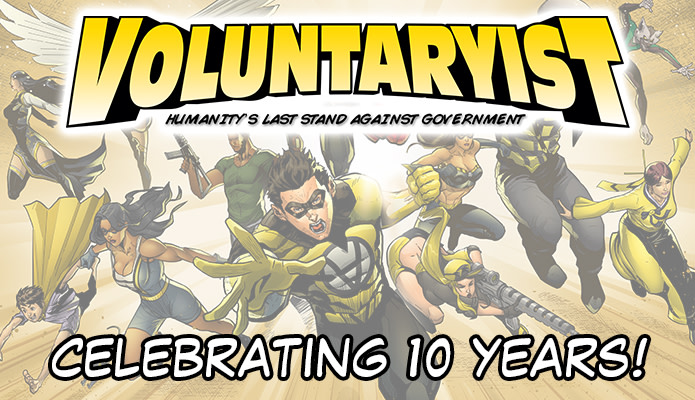 Hello Voluntaryist fans!
We did it!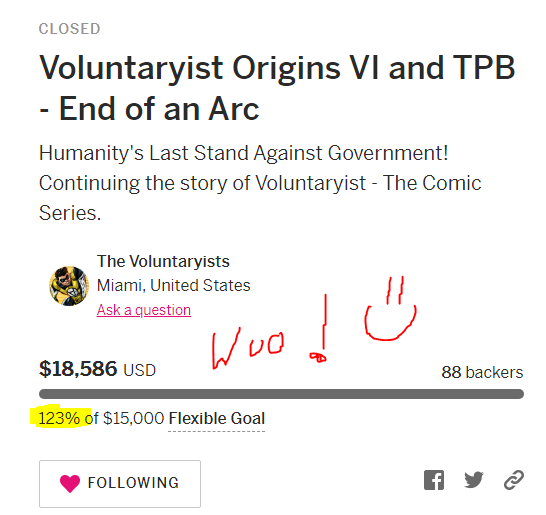 The 10th Anniversary Voluntaryist campaign is a complete success with both hitting goal and unlocking 3 stretch goals!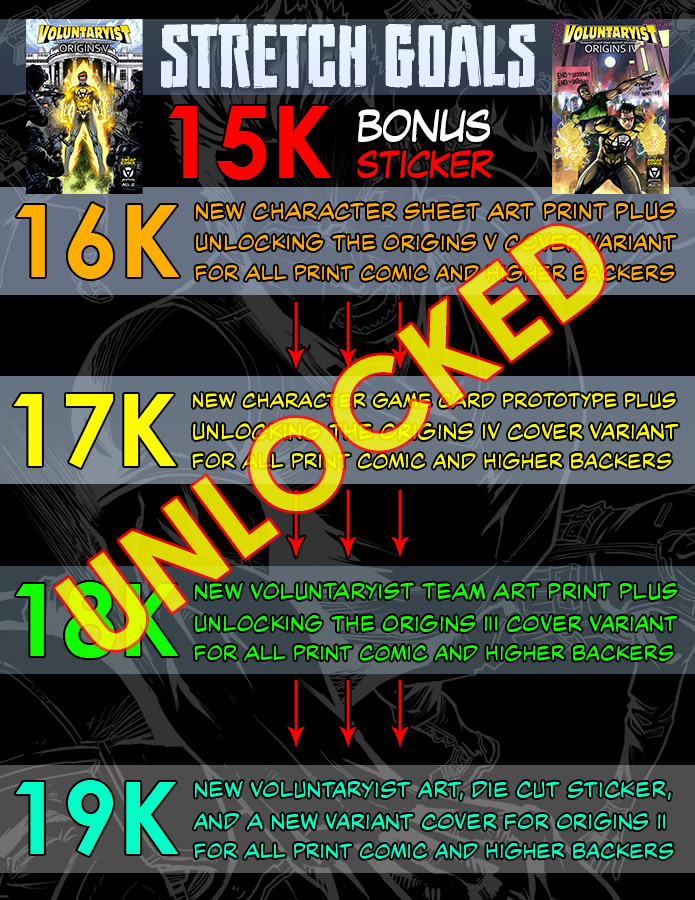 This means that all physical perk backers will be getting a bonus sticker for hitting goal and those at the print comic tier and above will also be getting the bonus character sheet, bonus game card, and Voluntaryist team art print on top.
To thank you for going above and beyond for this issue, I am going to go ahead and unlock the 4th stretch goal bonus and add that to your perk packages as my way of saying, "Thank you!" for giving me this opportunity to take the Origins story and put it into a start-to-finish remastered read. So that will add on another Voluntaryist art print and a die cut sticker to your perk packages at the print comic tier and higher.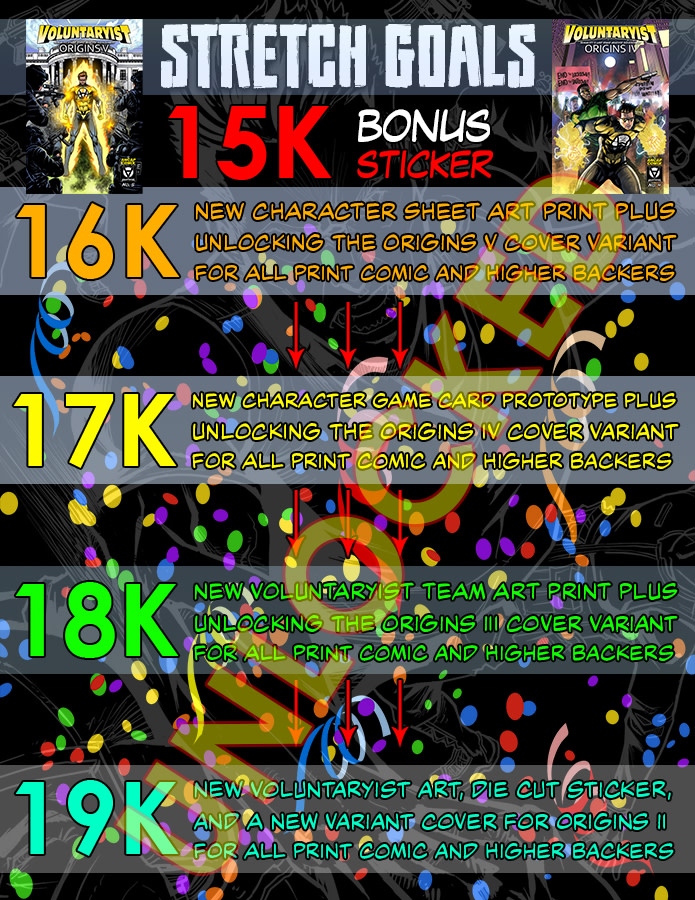 I could not have made it this far if it was not for your generous support and trust in building out the Voluntaryist universe.
That said, there are some important details for you to be aware of so that everything goes smoothly as I work toward creating the comics and fulfilling the perks.
I will be working incrementally on the comic sequentials, starting with issue VI. I have already completed over a dozen pencil pages for issue VI, but we still need to finish the rest of the issue and then lay the inks, colors, and letters.
As I am working incrementally, issue VI will be finished first before the Origins I and II remasters.
I plan on shipping out the issue VI perks as soon as that issue and the associated perks are ready.
This means that those who got the trade paperback or the I-VI single issue set will get their perks later when the remasters and new covers are complete.
I estimate that the issue VI perks could be finished by the end of 2022 to early 2023.
The trade paperback will likely take until closer to the estimated delivery date in late 2023 because it involves both remastering issues 1 and 2 and adding more pages to give extra lettering space.
I will be making updates at least once per month through the Indiegogo page and in parallel on the http://volcomic.com Website.
So, if you are ever wondering what's going on with the development, please be sure to check with either site so you can get the latest progression update.
I will also give everyone a heads-up update message whenever I plan to do shipment.
Please be sure to update your address if you have moved or plan to move by the time shipping is to take place.
You can log into the Indiegogo dashboard for this campaign and update your address there for us. You can also e-mail me at mr.voluntary(at)gmail(dot)com if you have any trouble logging in with the email you used for your perk purchase.
You can read the Indiegogo FAQ for more helpful information:

https://support.indiegogo.com/hc/en-us/articles/115002383767-Backer-FAQ
If you are an advertiser, please get in touch with me at least a week before the end of August, 2022, so that we can go over your ad to make sure it's fit for print. I sent all advertisers an e-mail detailing the format with the comic book template attached for respective single and double-page ads. If you did not get this, check your spam box. If it's not there, please message me at mr.voluntary(at)gmail(dot)com so that I can make sure you have the needed sizing specs and template for your ad.
For those who chose the "donation" option on Indiegogo (which really should be labelled "gift" because we're not a charitable organization), you will not be getting a perk. You can tell that this was selected if you did not get a prompt for putting in your shipping information when you checked out (minus the digital early release which has no shipping). If you did this in error, but would like to get a perk, please let me know what tier you supported with by emailing me at mr.voluntary(at)gmail(dot)com and I will invoice you for the shipping to get your shipment address.
This is going to be a wild ride getting this project done, but I have never been more thankful and excited because this finished compendium is going to make Voluntaryist a serious competitor in the alt comics world with having the Origins story in a completed format I can readily showcase for convention tabling.
Cheers to us in helping be the change we want to see, especially with the direction mainstream comics have taken these past few years.
You are AWESOME!
In liberty,
-J ( :
Campaign link: https://igg.me/at/origins6
Website: https://volcomic.com/
E-mail: mr.voluntary(at)gmail(dot)com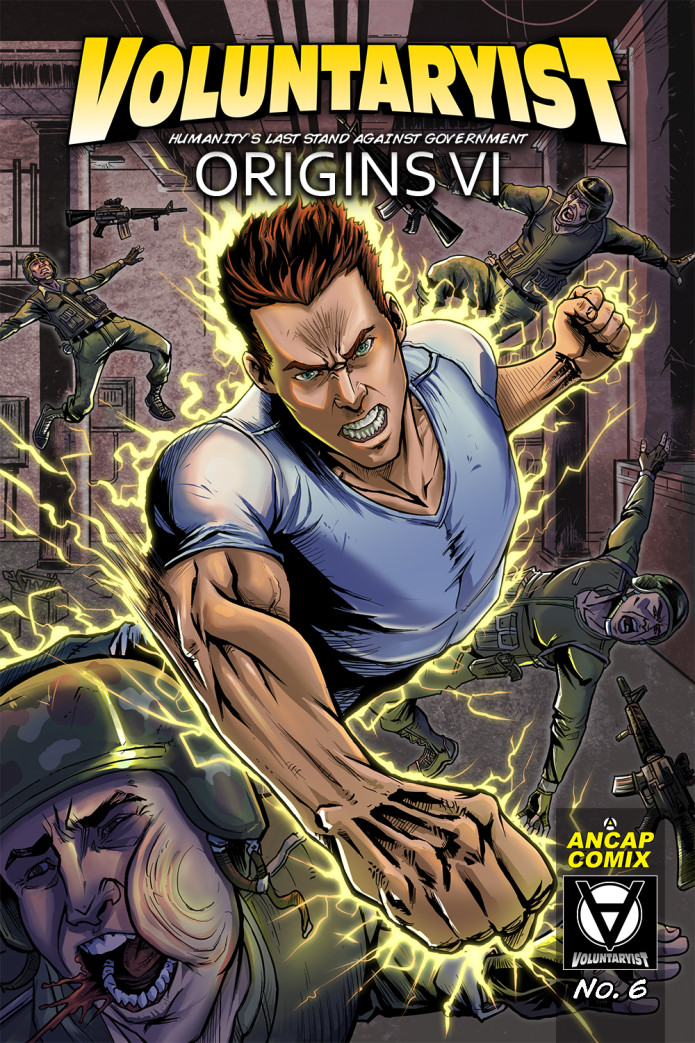 ---
---
---
Hello, Voluntaryist fans!
While you may have come to know me for my fictional Voluntaryist comic book story, I finally decided to make my first non-fiction book in line with the Voluntaryist universe.
It's the culmination of 15 years of activism and study within the libertarian-Voluntaryist spectrum.
It's NOT a history book.
It's NOT a summary of other's works.
It's not a bunch of pull-quotes from past thinkers.
This is my unifying the fields of property rights and consent ethics theories into a universal philosophy that anyone can readily relate to and defend.
By the nature of the work, it will be challenging in many ways because it introduces a new basis by which to framework WHY one would want to uphold property rights and consent ethics.
You'll be surprised, intrigued, and provoked to deeper investigation in the process.
But, unlike many other libertarian works, I've distilled the concepts into the minimum description needed to get people to understand the basics and their applications.
That makes it accessible for anyone, whether you're a seasoned Misesian or are new to Voluntaryist thought.
No matter what, I hope you enjoy the ride and that it at least sharpens your thinking in the process.
Cheers to your kind support, from helping me refine my thoughts in conversation, to getting your own edition for the liberty bookshelf!
In liberty,
-J ( :
Available here: https://amzn.to/3gVuTn2
(Affiliate link)
---
Hello, Voluntaryist fans!
All Origins V comic perks have been SHIPPED!
Woohoo!
If you're a U.S. backer, you should see your perk within 1-2 weeks.
International backers should see theirs within 2-4 weeks.
If you do not receive anything by Jan. 2, 2022, please contact me through the Indiegogo dashboard or via email at mr.voluntary(at)gmail(dot)com so I can check on your perk and replace it if it ended up getting lost in the mail.
If you want to pick up any past print issues, you can over on Indyplanet here:
https://www.indyplanet.com/?s=voluntaryist
Origins V will be available for print copy purchase on Indyplanet soon, but the rest of the past issues are up and ready for selection.
And, if you're looking for something special to give that liberty-loving family member or friend this Christmas, check out the Voluntaryist Store over at:
https://www.zazzle.com/store/sirevoluntary
There's all kinds of liberty goodies- from shirts, to stickers, to hats, and buttons- all with a liberty theme!
And, MOST IMPORTANTLY, please remember to check out, share, and support the next Voluntaryist campaign for Origins VI when it launches, tentatively, summer, 2022.
We will not only be completing the Origins arc with issue VI, but also hope to remake Origins I and II to bring the series into conformity with the later artist's designs, and, put ALL the Voluntaryist Origins comics into a single trade paperback compendium.
It will be an essential collectible for any Voluntaryist fan.
Thank you so much for believing in me and the Voluntaryist comic book series. I could not have accomplished this feat without your generous support over the years.
Let's make 2022 the best year for liberty yet!
With eternal gratitude,
-J ( :
---
---
---
---
---
---
---
---
---